Hi Smoothie Lovers,
I've had many queries over the years about smoothies, and in particular, what I put into my smoothies.  Now I'm not a certified  Nutritional Consultant, but I do have my favourite morning smoothie that I will share with you as well as my tips on how to make them easy-peasy to make.
To start, let me put out many thanks to Sheree Nicholson who often shares recipes, including Smoothie recipes, in the Brooklin Town Crier, and who is an inspiration for many of my smoothie combinations.  It was one of her recipes that opened my eyes to the addition of Cacao powder into my smoothies… GAME CHANGER!  Who knew a smoothie could taste like a chocolate milkshake and still have nutritional benefits!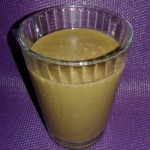 Let me start with the ingredients.  Feel free to experiment with the list and also the quantities. An important note here is that I have a Vitamix, and this makes all the difference in the world in getting the following ingredients to blend beautifully into a delicious, smooth, non-gritty, non-lumpy smoothie. The first 6 ingredients are already frozen.  Either I prepare and freeze them in bulk myself, or I buy them frozen (indicated).  I try to buy organic, or even better wild, whenever they are available.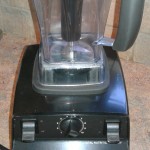 1 over-ripe Banana (previously cut into 2 cm lengths and frozen)
10-12 Raw Cashews, (pre-soaked for a day, then drained and frozen)
Heaping handful of frozen Kale (leaves have been washed, drained, bagged and then frozen)
5 -6 Pineapple chunks, purchased frozen from Costco
10-12 Wild blueberries, purchased frozen from Costco
3 Ice cubes
3 large, pitted Medjool dates
My Smoothie Powder Mix.  I pre-assemble a couple cups of my powder ingredients to store in the fridge in a large mason jar.
My Powder mix is complex, and I will share it another time, but for starters, it can be as simple as just Cacao powder, but I would suggest the following starting combo:
Simple Smoothie Powder combination:
1 Heaping tablespoon Cacao powder
Dash of cayenne powder (heightens the taste).  Thanks to my husband's cousin Vanessa for this inspired suggestion!
Ceylon cinnamon (to taste.  Start with 1/4 teaspoon. Use less if using typical hybrid cinnamon, which is less nutritional but more intensely flavoured.)
To make this process simple, once a week I assemble Ziplock sandwich bags with all the non-powder ingredients (#1-#7).  The contents of each bag makes a double serving of smoothies for my husband and I each morning.  I dump the contents of one baggie into my Vitamix along with a heaping tablespoon of my powder mix.  For your purpose, add powder ingredients above.  Then add about 1  1/4 cups of filtered water and blend in a Vitamix for about 1-2 minutes until smooth.  Add water as needed toward the end of blending… don't add extra water too soon, as you may make it too runny.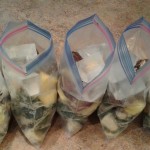 Once pre-organized, the whole process only takes about 3 minutes to make and serve two smoothies in the morning.
We're in the process of organizing a patient content page on the website, where we will share this and other practical information, with pictures and more details like the full list of ingredients that Dr. K uses to make her smoothie powder.
For now, play with this recipe and let me know what you think.